Hike in the Gilfenklamm Gorge
he Gilfenklamm gorge near Stange in South Tyrol is a real natural highlight and very varied. The hike through the gorge and back over the mountains is not too strenuous and takes about two hours. (de|en)
Hike in the Gilfenklamm Gorge
04/2021 The Gilfenklamm gorge is located near Ratschings and Stange in the Wipptal valley and is a very beautiful naturhighlight with lots of variety. In its course, the Ratschingser stream turns into thunderous masses of water that have made their way through the rocky gorge. At the heart of the Gilfenklamm gorge, breathtaking views into the depths open up, which can be enjoyed from bridges. The 2.5 km hiking trail (one way) leads through this natural monument via suspension bridges and stairs in about one hour. The gorge is open from the beginning of May to the beginning of November and costs 5 euros admission.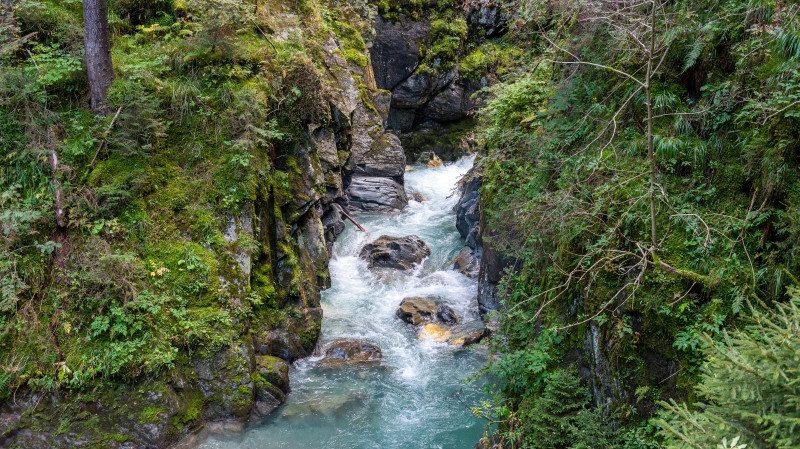 Hiking trail details
You can, of course, hike back and forth along the same path or walk back to the car park via the mountains. There are also two options when you reach the end of the Gilfenklamm. Either you take an easier path on the other side of the main road or you walk back into the forest and a little steeper way back and also see the ruins of Reifenegg Castle. We decided to take the path over the mountain because we wanted to enjoy the great view in the evening sun. In the gorge you have to expect slippery ground, especially on the bridges, and the path is not suitable for baby stoller.
Plan a hike with Komoot
To plan the hike, I used the app Komoot, which also shows the different routes. There, a distance of 6 km is given for our hiking trail across the alpine pasture. If you choose the route on the other side via the castle ruins, it is just under 6 km, but with a somewhat steeper path. There and back in the gorge it is about 5 km. If you are looking for the hike on Komoot, you should definitely enter the town of Stange as a search term and then zoom in on the map as close as possible to find the various hikes.
Conclusion: Gilfenklamm hike
I would definitely recommend the hike through the Gilfenklamm gorge because it is so varied and not too strenuous. First you experience the raging mountain stream as it gushes over the stones. Then the gorge gets narrower and narrower and you look down from the bridges and paths into the gorge and at various waterfalls - a real adventure. At the end, you are rewarded with a great view of the surrounding mountains on the way back.

Extra tip: Pack hiking boots and a rain jacket / no refreshments or restaurants on the way.
Important for dog owners: The new iron bridges along the Gilfenklamm gorge could cause injuries to dogs paws.
More exciting articles